Raj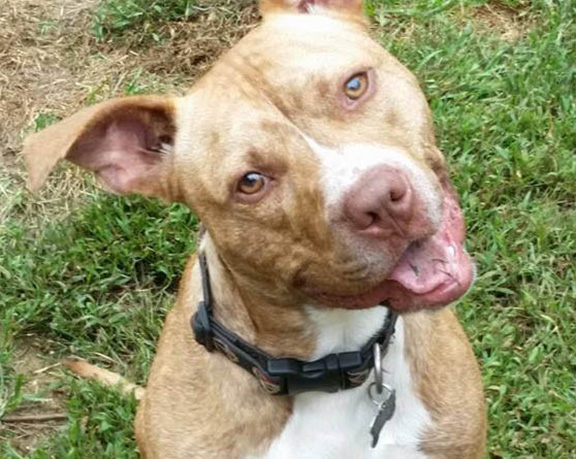 Every now and then that special dog joins our long-term care due to age, temperament or medical condition. It's official: Raj will be a permanent resident. Raj came into our life a few months after we lost one of our permanent dogs, another pit bull mix named Austin. Austin was rescued from Hurricane Katrina in 2005 along with 125 other dogs I brought back. He and 4 other pit bulls became permanent residents due to medical issues which made them unadoptable at that time. Austin loved us, loved his pit bull companion Jelly (another Katrina dog) and adored the people he learned to trust. At the young age of 10 and 1/2 years we lost our beloved boy to pancreatic cancer, devastating us and Jelly, his soulmate. We did our best to console Jelly, rotating her with our other female but it was rough on everyone. Then Raj joined us as a foster dog. Initially we were told he was great with dogs, cats, kids and all people, so we agreed to take him. We noticed some concerning behavior when we first picked him up, but shrugged it off to stress and having been shuffled through 2 shelters and another foster home prior to arriving here. We then noticed that reaching above his head or picking up anything like a stick, broom or tennis ball would result in a terrified dog. When we went to public events, it became obvious that his past mistreatment at the hands of men would not allow him to be placed without a lot of work. We are lucky to have a wonderful trainer, Marianne Finney, who loves and believes in him and to have had the gift of Austin in learning how to deal with a dog with such issues. Raj is great with our animals and he and Jelly adore each other. Raj is here to stay.

We got the Message, Austin: you sent him to us.
Jelly says thank you, Austin, we all miss you but feel you are here once again.